Created in March 2018, EuropeanConstitution.eu was set up by a small team of Europhiles dedicated to the idea that Europe had to be promoted in clear and simple terms.
As the association was initially set up to provide a framework for the promotion of the proposed constitution, no particular emphasis was placed on expanding the membership of the association.
Since then, with the broadening of the association's activities, the membership has grown and the team is slowly structuring its work.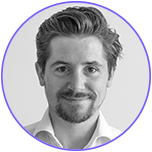 Louis Drounau led the foundation of the association and has been its President since 2018.
Louis has spent several years working for the United Nations, including for UN-Habitat in Nairobi, Kenya, for a peacekeeping mission in Côte d'Ivoire, and for the UN Office for Disarmament Affairs in New York. He also worked for the European Commission on political affairs in relation to West Africa, and with MONEYVAL, the Council of Europe's body in charge of anti-money laundering activities. Louis is also a founding member of the French collective Mieux voter which promotes Majority Judgment as a method of voting.